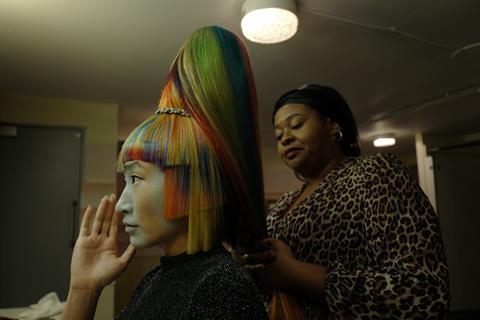 Direction: Thomas Hardman. UK. 2022. 101 minutes.
Contemporary British cinema isn't usually the place you'd go for the quirky and formally playful, so fancy jellyfish it sticks out a mile, just like the towering hairstyles seen in this darkly comedic meta-whodunnn set at a hairdressing competition. A garishly dressed but cheaply staged experimental creation, staged as a one-shot drama, this brash and confident debut should garner high regard for British writer-director Thomas Hardiman, one of the Screen's 2021 Stars of Tomorrow. It's debatable whether this MUBI van will make it beyond trendy cinephile circles after its Locarno debut, given its deliberately esoteric approach, though it should score at festivals and outlets in the LGBTQ+ and arthouse/artist film galaxy.
Hardiman has crafted one of the most outrageous single films in recent cinema, with echoes of Almodóvar and Greenaway, and a distinctly British flavor that includes no-nonsense touches of soap opera talk.
Set on multiple floors of a labyrinthine studio building, the film begins after a hairstylist named Mosca is found dead and scalped after a competition by professional hairdressers. Up and down hallways and stairs, in and out of locker rooms, Robbie Ryan's camera pans between conversations as we meet various witnesses, suspects, and traumatized bystanders.
They include hairstylist Cleve (a killer Clare Perkins), a fierce braggart with anger issues, and her more laid-back rival, the aptly named Divine (Kayla Meikle), who combines her passion for hairstyling with a love of God. Later arrives Kendra (Harriet Webb), a kind of lair mother to the entire scene, while Darrell D'Silva, raspy-voiced and silvery toupee, plays Rene, the event's nervous emcee. René finally directs the action out of the building when he goes to meet the deceased's lover, Angel (Luke Pasqualino), who arrives with his baby in tow, a commendably patient mite (played by Logan and James Porter) who is handed the cast. for care and pampering.
There is also a security guard (Heider Ali), who baffles everyone with his imminent presence. But long before all the players have been introduced, it's easy to feel lost: the movie opens with a ferocious burst of backstory exposition about the characters' love lives and transgressions. From the beginning, you fear that there is no narrative comb that can unravel this dense fabric of intrigue.
In fact, in that opening scene (preceded by a dreamy CGI prelude), viewers already get the gist of what the movie will be: brilliantly acted and shot, but somewhat theatrical and a bit alienating. One wonders what Hardiman can bring that is new to the already overtaxed microgenre of one-shot exercise, recently executed so dazzlingly in a British restaurant drama. Boiling point.
However, once fancy jellyfish settles into its rhythm, its feverish tone, the graceful intensity of the performance and the fleeting grace of its lurid wit begin to take effect. Like the characters, the camera is also lost in and around the building (long Steadicam shots cleverly edited by Fouad Gaber to suggest a perfect shot), while the design and camera work are skilfully combined so that the colors of the décor, including vibrant citrus tones, magically rhymes with that of the characters' clothing and hair, especially as model Inez (Kae Alexander) walks the aisles wearing a turret of cascading rainbow strands.
The mystery of who did what to whom takes a backseat to the Byzantine play on words, camera movements and psychological fencing. The script focuses on conversation about the investigation, rather than the investigation itself, with police activity simply glimpsed in the background, a sign of the film's audacity, but one of the reasons some viewers may be hesitant. in investing. But a constant common thread is the interplay of career ambition, fetishistic follicle worship, and erotic desire.
Hardiman, cleverly drawing on his own love of hairstyling, has crafted one of the most quirky single films in recent cinema, with echoes of Almodóvar and Greenaway, and a distinctly British flavor that includes no-nonsense touches of soap opera talk. Eugene Souleiman's hair design is a wonder to behold, especially in the sensational baroque 'Georgian Fontange' (it's a real thing, rooted in the 17th century), topped with a glow-in-the-dark galleon. And musician Koreless ramps up the tension with a sparse percussion and electronic score that's all tremors and rhythmic crackles.
Either fancy jellyfish Quite convincing us that it had to be a one-shot exercise, it's cleverly pulled off: the electric performances, from a super-alert and bristling cast, lend a live-event feel to the action, framed in the proportion of The academy. And Hardiman has more surprises in store: a couple of daring time jumps and a claustrophobic-bursting climax with a dazzlingly spectacular touch, plus an unabashedly moving coda. It's a flamboyant farewell to a picture that's about as far from the short-back-and-sides tradition of British realism as you can get.
Production Companies: EMU Films, Time Based Arts
International sales: New Europe Film Sales, [email protected]
Producers: Michael Elliott, Louise Palmkvist Hansen, Lee Groombridge
Screenplay: Thomas Hardman
Cinematography: Robbie Ryan
Production Design: Gary Williamson
Editing: Fouad Gaber
Music: Korean
Main Cast: Clare Perkins, Anita-Joy Uwajeh, Kae Alexander, Harriet Webb