This is the moment when one of the world's rarest birds of prey is rescued by police officers from a royal palace.
The lost and dehydrated young imperial eagle (Aquila Adalberti) was spotted struggling to fly at the Royal Monastery of El Escorial near Madrid, the Spanish capital.
In one video, the bird of prey could be seen leaping along an exterior wall in the courtyard of the dark building, apparently trying to take flight.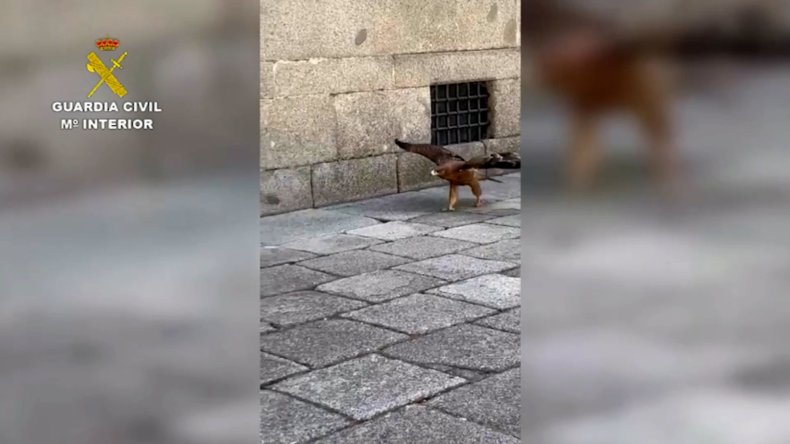 Royal officials called for help as the juvenile bird appeared unable to leave the ancient retreat, which was once home to the kings of Spain.
He was saved when agents from a Civil Guard wildlife unit intervened and captured the bird on July 29.
Footage from the rescue shows that after dropping a blanket over its head, officers were able to put the bird in a transport box.
Spanish police issued a notice stating: "The animal was finally transferred to the Wildlife Recovery Center in the town of Tres Cantos, where it is recovering favourably."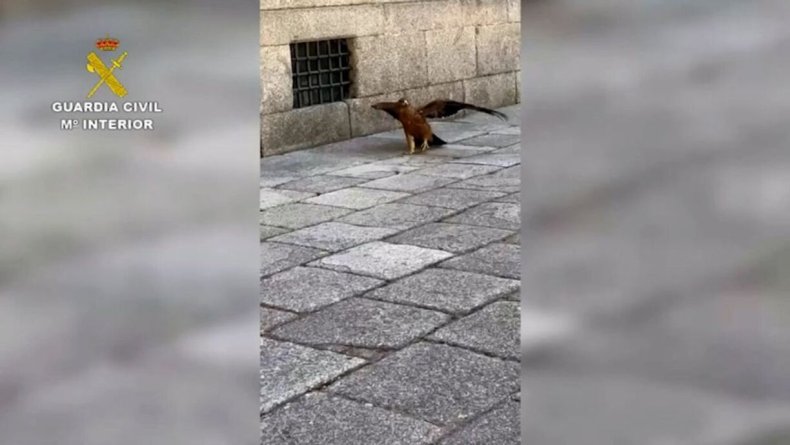 Agriculture Ministry official Luis Gonzalez said: "The first records of Spanish imperial eagles date from the late Pleistocene and early Holocene in eastern Iberia, and their distribution seems to have been restricted to areas of distribution of Mediterranean vegetation and European rabbit."
The Spanish imperial eagle is native to the plains, marshes, and hilly regions of central Spain, as well as the mountain ranges that are part of the Central System mountain range in Portugal.
In captivity, these birds can live up to 41 years, while they live around 20 years in the wild.
The Spanish imperial eagle is currently listed as vulnerable on the endangered species list.
Findings revealed by Bird Life International, a registered charity aiming to conserve birds and their habitats, explained that while most bird poisonings and electrocutions are accidental, they are the most common causes of death, with 40 % of cases related to livestock protection.
Eagles have long featured prominently in Spanish heraldry and adornments. The Romans, who conquered Spain in the 1st century BC, were known to use effigies of eagles as symbols of their martial prowess, while the later Roman and Habsburg empires featured double-headed eagles on buildings and the flags.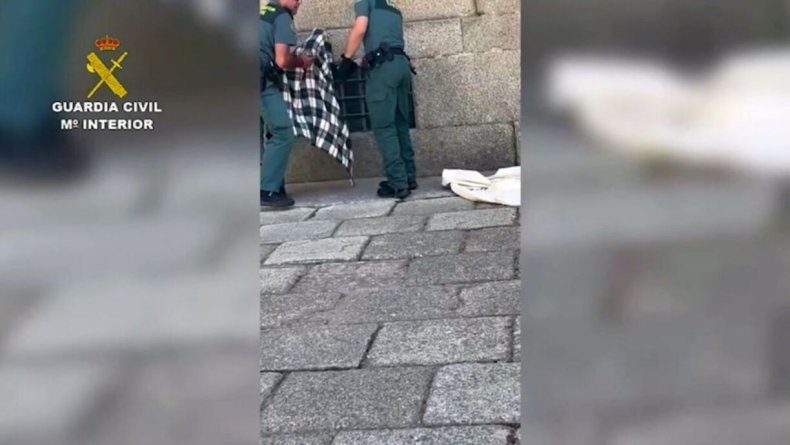 The Royal Monastery of Saint Lawrence at El Esocrial was built by King Philip II of Spain in the mountains of Guadarrama to commemorate his 1557 victory at the Battle of Saint-Quentin against King Henry II of France.
El Escorial is located at the foot of Mount Abantos in the Sierra de Guadarrama range. Intended to be the burial place of his parents, Charles I and Isabella of Portugal, himself and his descendants, this is where Philip spent the last years of his life.
El Escorial is the largest Renaissance-era building in Europe and is a major tourist attraction.
This story was provided to Newsweek by Zenger News.