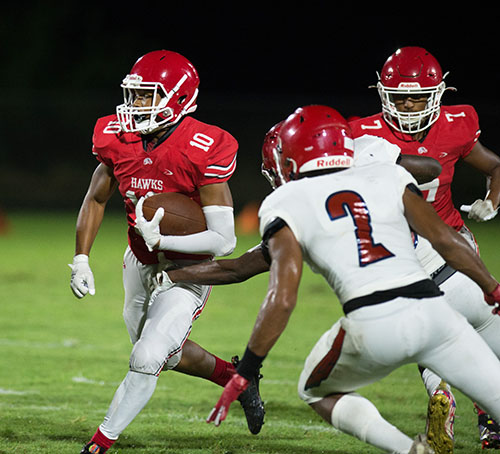 After four weeks of this year's high school football season, the undefeated Seminole Ridge High School Hawks (4-0) remain the cream of the crop in communities across the West.
On September 9, the Hawks defeated Forest Hill High School 9-7, then shut out Palm Beach Lakes High School, 30-0, on September 16.
Two of the key plays in Seminole Ridge's win over Palm Beach Lakes were Ruben Tirado's 51-yard touchdown pass to Gavin Kolesar and a pick-six by Kevin Coggins. The Hawks will put their undefeated record on the line on Friday, Sept. 23 when they travel to Riviera Beach to play Inlet Grove High School.
Palm Beach Central High School (3-1) opened its season with three straight wins, followed by a loss Sept. 16.
In their last two games, the Broncos beat Park Vista High School, 42-7, on September 9. On Sept. 16, Palm Beach Central was outscored by Pahokee High School, 35-14.
According to Palm Beach Central head coach Kevin Thompson, the loss was a wake-up call for his players.
"What we've learned is that we can't just go in and expect to win," Thompson said. "They [Pahokee] wanted to beat us more than we wanted to lose.
The Broncos, who have a Sept. 23 bye, will go for their fourth win of the year on Friday, Sept. 30, when they host John I. Leonard High School in their first district game of the season.
For these practices leading up to the game against Leonard, Thompson and his team will focus on fundamental football.
"Our focus will start with going back to what we've done and tweaking some things," he said. "We're really going back to our foundation."
At Wellington High School, the Wolverines (2-2) look set to string together wins to close out the regular season.
On September 9, the Wolverines lost a home heartbreaker to Jensen Beach High School, 17-14. But they bounced back the following week. On September 16, the Wolverines made the short trip to Royal Palm Beach High School to take on the Wildcats, heading home with a 39-12 win.
The Wolverines, who have a Sept. 23 bye, will look for their third win of the year on Friday, Sept. 30, when they host Forest Hill High School in their all-important district first game of the season.
Royal Palm Beach High School remains winless after four games, although new coach Chuck Kenyon's leadership impact on the football program has pushed the Wildcats in the right direction.
The Wildcat football program is being rebuilt by Kenyon. Despite starting the season with four straight losses, Kenyon knows it will take time to re-establish Royal Palm Beach as a team to be reckoned with in Palm Beach County as they were just a short time ago. not so long ago.
"You get to the top of the mountain one step at a time," Kenyon said. "We are going in the right direction."
After winning just one game last season, the Wildcats will go for their first victory this fall when they host undefeated Santaluces High School (4-0) on Friday, September 23.
The King's Academy Lions picked up their second and third wins of the season in mid-September. On Sept. 9, TKA defeated Somerset Academy-Canyons, 16-8, and on Sept. 17, the Lions defeated Glades Day School, 29-6, in a game that started Friday, Sept. 16, but was delayed by the weather report. and was concluded the next day.
Coach Ben McEnroe and his team will be aiming for their fourth victory on Friday, September 23 when they travel south to take on North Broward Prep in Coconut Creek.
McEnroe said his side have adapted well to his coaching style and philosophy.
"I don't think adapting to me is a problem," McEnroe said. "I'm demanding and quite intense, and I love competition, and these kids know I love them and will always be behind them."
As for the Berean Christian School Bulldogs, they remain winless after their first four contests.
Berean (0-4) attended St. Edward's School in Vero Beach on Sept. 10. While Berean managed to score his first 16 points of the season, the Bulldogs gave up more and lost 42-16. On September 16, Berean played at Boca Raton Christian School, losing 35-8. On Sept. 23, the Bulldogs will be aiming for their first win of the season when they return home to take on Bell Creek Academy in Riverview.
Berean head coach Mario Jackson said his team was young and working hard to improve.
"The 2022 season hasn't gone to plan," Jackson said. "Our youth in age and experience has definitely pushed us as a team, coaches included, to dig deep. Everyone likes to be on the right side of the scoreboard, but we have to remember to improve every day. We have 26 players on our roster, and 19 of them are eighth-graders, freshmen, and sophomores.
After four games, Berean's best players are quarterback Dominic Mastrogiacomo (242 passing yards, 58% passing rate, one touchdown pass and one rushing touchdown); running back Jermonty Kimbrough Jr. (48 carries for 290 yards rushing and 11 receptions for 93 yards); and linebacker Roshiloh Richards (14 tackles).